Rent A Pinball Machine For Your Home Or Business
Enjoy a real arcade pinball machine in your own home without needing to spend what it costs to own one. Pinball machines are expensive and require maintenance to keep them working at their best. Renting a pinball machine from us makes it so you can enjoy pinball at home without the major expense or cost of upkeep.
Here's How It Works
For a low monthly fee, we bring a full-size arcade pinball machine to you. All you have to worry about is getting your initials on the high score list. We take care of delivery, set up, and any maintenance issues that may arise.
Call or text 801-898-2534 to learn more now!
Reasons to rent a pinball machine:
Experience having a full-size pinball machine in your own home. Virtual pinball is nice, but there's no substitute for the real thing.
Access to an amazing collection of games considered to be "holy grails" to pinball collectors everywhere.
Owning a machine is expensive, rent and try one out before jumping in to buy one.
We take care of maintenance so you don't have to worry about fixing anything.
We offer modern and classic pinball machines for rent. Here's a sample photo gallery of the games we have available: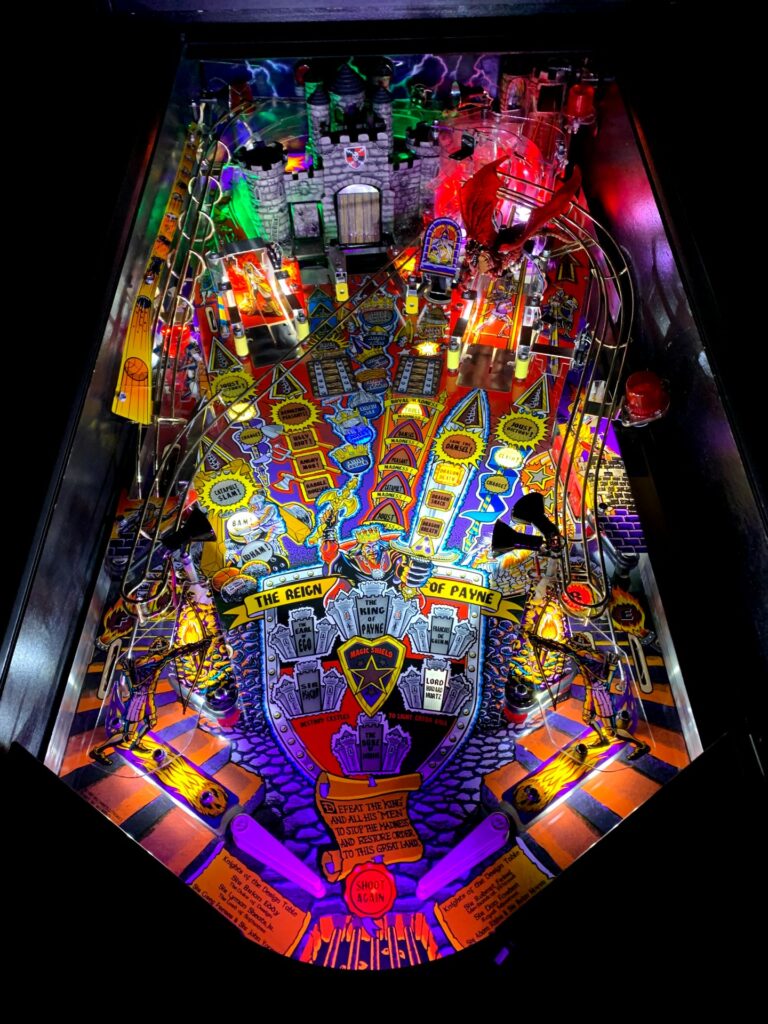 Pinball Machines Available For Rent
AC/DC Premium
Attack From Mars
Avengers Infinity Quest Premium
Batman 66 Premium
Cactus Canyon Remake (Coming Soon)
Cirqus Voltaire
Creature From The Black Lagoon
Deadpool Pro
Dirty Harry
Doctor Who
Dracula
Elvira's House of Horrors Premium
Elvira and the Party Monsters
Fish Tales
Flintstones
Foo Fighters Premium (coming soon!)
Getaway – High Speed II
Ghostbusters Pro
Godzilla Premium
Guardians of the Galaxy
James Bond 007 Premium
Johnny Mnemonic
Jurassic Park Pro
Jurassic Park (Data East)
Lord of The Rings
Mandalorian Pro
Mandalorian Premium
Medieval Madness
Metallica
No Good Gofers
Rick and Morty
Road Show
Rocky and Bullwinkle
Rush Premium
Safecracker
Scooby Doo CE
Simpsons Pinball Party
Spider-Man

Star Trek Pro

Star Wars (Data East)
Star Wars Pro
Stranger Things Premium
Tales of the Arabian Nights
Teenage Mutant Ninja Turtles Pro
Terminator 2
Theatre of Magic
Total Nuclear Annihilation
Twilight Zone

White Water

World Cup Soccer '94
X-Men LE Magneto
This list is updated often. Let us know if there's something specific you're looking for. Availability is always in flux, please call/text to see what's available right now.
Call or text 801-898-2534 to learn more now!
Frequently Asked Questions?
Q: How much does it cost? A: Most monthly rental rates start at $250, with some exceptions that are higher or lower. Discounts are offered for multiple month rentals and for our refer-a-friend program ($25 rental credit for you and your friend).
Q: Should I leave the game on all the time? A: We recommend you turn it off when you're not around to play it or admire the lights. If it does get left on, it's not an issue, just your electricity goes up.
Q: What if a ball gets stuck or the game stops working? A: Upon delivery, we'll give you a tutorial on how to resolve simple issues like freeing a stuck ball. If bigger issues arise, we're just a call or text away from fixing the problem. We mean it when you get a worry-free experience.
Q: Do you charge sales tax or other fees? A: Yes, we're required to collect sales tax. Fees for setup and delivery are communicated clearly or simply waived depending on the circumstance. For single month rentals there is a delivery fee of unless we're picking up the last rental and dropping off a new game.
Q: How big is a pinball machine? On average a pinball machine has a length of 51″, width of 29″, and height of 76".
Q: What if the game I want is currently rented by someone else? A: With a deposit we'll put you on a waitlist for your preferred game. The current renter always gets the first right of refusal, just in case you need a little more time to reach the wizard mode or try to get the Grand Champion score.
Call or text 801-898-2534 to learn more now!